Mini Timer

The Mini Timer is a simple, but useful in-game timer that you can use for pretty much anything that needs to be timed. It's also FREE.


Click
here
to answer 9 quick questions about your custom computer building experience.

If you know how to do the math and just need an in-game timer to monitor your mining lasers, or for whatever reason, then use the FREE Mini Timer below. Just like the Miner Timer, it runs on top of the EVE client while in Windowed mode.
This download includes the VB6.0 project as well as the install .exe. Also included is the InnoSetup .iss file, OCX and vb runtime files.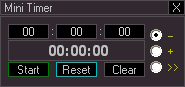 Mini Timer v(1.0.6)
<DISCLAIMER>I (Richard Fox) am not responsible for any damge to your system, either caused by, or perceived to be caused by this progam. Although every precaution has been made to ensure clean code, installs and full uninstall, you iInstall this program at your own risk. If you do have any problems with installation, running, or uninstalling this program, please send me an eve-mail and I will attempt to correct whatever the problem is.